PHOTOGRAPHY COURTESY OF Airbnb
Ever Wanted to Spend the Night in the Bus From Spice World? Now You Can.
It's now available to rent on AirBnB and people are going nuts. (Including us.)
Remember that bus from their 1997 movie Spice World?
The Union Jack-painted tour bus that somehow managed to leap over a lifting bridge to bring the Spice Girls to their concert at the Royal Albert Hall just in the nick of time?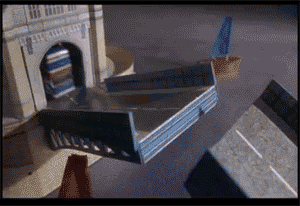 If you're one of the many millennials who dreamed of visiting the wheeled paradise decked out with a full photo studio for Posh and an indoor swing-set for Baby and all the other amenities a Spice Girl could ever possibly need, now is your chance to claim a piece of the action.
The Spice Bus is now parked in London's Wembley Park area and can accommodate up to three guests for about $130 each. Yes, now you can officially rent the Spice Bus on AirBnB. The bus was renovated by Spice Girls super-fan Suzanne Godley and decorated with union jack seats, disco ball cushions, zebra print carpets and a giant neon 'Girl Power' sign. With colourful scrunchies and retro magazines a plenty, it's as if the '90s never ended.
We suggest taking advantage of all the nostalgic goodness this 'tiny home' has to offer by taking as many selfies as possible in the drivers seat and bringing a '90s-themed wardrobe to wear throughout your stay. And before your stay is over, test out the acoustics of the bus with a heartfelt rendition of 'Goodbye.'
Airbnb will be releasing more booking dates as of May 22, so spice up your life and get clicking.